Cannes Recap: Karolina Kurkova, Alec Baldwin, Kanye West, and More Celebrities Getting Off Yachts
Tara Reid, Gerard Butler, Paris Hilton, and more grappled with slippery planks in their bare feet last week.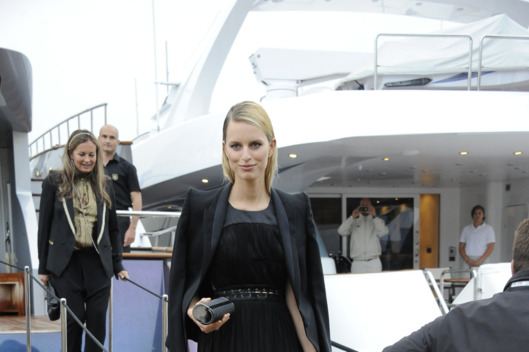 Cannes finished up on Friday, but we're not quite done looking at pictures of famous people wearing clothes, so here's a roundup of celebrities on yachts. (Well, getting on and off yachts, more specifically.) You see, yet another reason why Cannes is more entertaining than any other film festival is that people bring their fancy boats and host parties on them. The thing about yachts, though, is that despite being flashy and decadent, they require all guests to remove their shoes (hard soles can damage the deck) as well as enter and exit via ramp. These ramps can be tricky business, since they're usually bobbing and swaying about, and they can be slippery if they're wet. Plus, all the paparazzi who weren't allowed on the ship are crowded around taking pictures of the celebrities as they wobble their way back ashore (many of whom don't have good sea legs, thanks to the actual waves as well as all the Champagne flowing onboard).
We've rounded up some of the best photos of celebrities getting on and off yachts from the past week in Cannes, including Alec Baldwin, Tara Reid, Gerard Butler, and Karolina Kurkova (plus multiple photos of Kim Kardashian and Kanye West, who seem to have spent all their time at sea, quite literally). Enjoy!
BEGIN SLIDESHOW