Carine Roitfeld's New Magazine Is Staffing Up
They've hired former<em> Teen Vogue&nbsp;</em>staffer Shiona Turini.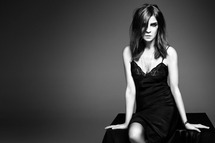 Carine's forthcoming magazine, CR Fashion Book, is beefing up its staff ahead of its September launch. Shiona Turini, former Teen Vogue accessories director (and popular street-style subject), confirmed to us that she has joined Michaela Dosamantes on the market team for fashion and accessories. She started her new job yesterday.