Charlotte Casiraghi Models So Her Horses Can Go to Dubai
And the next day to Spain.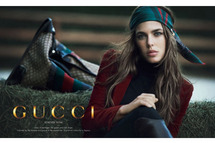 French celebrity journalist Stéphane Bern told the New York Times: "[Charlotte] has absolutely no interest in being a model, she's much too intelligent for that ... But competing in horse competitions costs a lot of money. You have to transport your horses one day to Dubai, the next day to Spain, pay for their care, the trainer. Gucci helps by writing checks with lots of zeros."