David Beckham Is Shirtless and Wearing Wet Skinny Jeans on British Elle's Cover
He appears to have fallen in the pool — oops!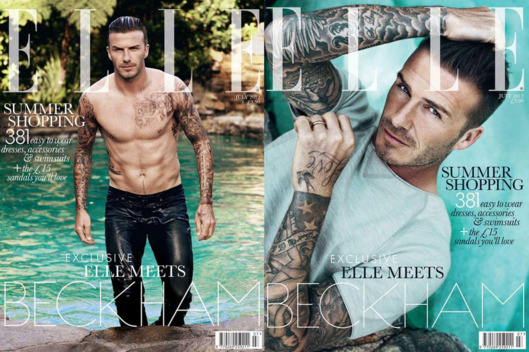 British Elle has made a big to-do about putting David Beckham on their July 2012 cover — he's their first solo male cover star! — and they revealed the images yesterday, while we Americans were busy lying on the beach instead of trolling the Internet for photos of hot, shirtless celebrities. Here he is, brooding and muscular, as he emerges from a swimming pool in his soaking wet jeans and nothing else. Hopefully he's wearing a nice pair of his own undies somewhere in there — you know, chafing precautions and whatnot. One thing we don't understand, though, is why subscribers are deprived of his abs on their cover (shown, right) — shouldn't Elle reward their most loyal readers, not punish them?