Erin Heatherton Shoots First Movie Role, Offers to Bathe Adam Sandler
She plays a cheerleader, of course.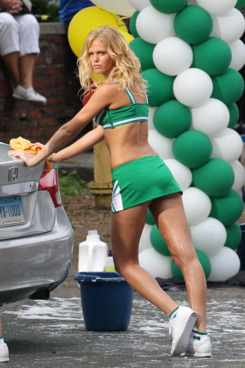 Erin Heatherton shot her very first movie, Grown Ups 2, in Boston yesterday. Naturally, her role required her to wear a cheerleader uniform — a matching bra top and short skirt — and shoot a car-wash scene, à la Bring It On. Afterwards, she extended an offer via Twitter to bathe her co-star Adam Sandler: "@happymadison had a blast, if you ever need a sponge bath, you know who to call." So that's how acting careers get made.