Exclusive First Look: Karl Lagerfeld Makes More T-Shirts With His Face on Them for I Love Dust
His gloves play a prominent design role, too.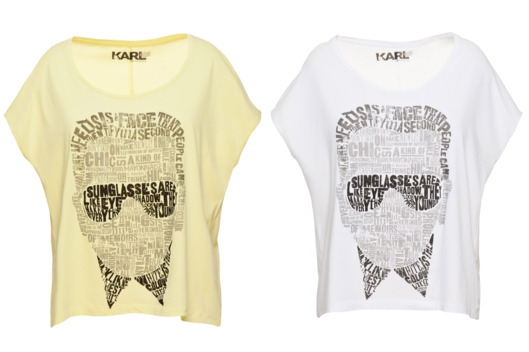 Karl Lagerfeld's latest side project (apart from the Baptiste frescoes, of course) is a line of T-shirts in collaboration with British design collective I Love Dust. The main design elements are — surprise! — fingerless gloves, a trompe l'oeil vest, Karl's name, and Karl's face, all rendered in black ink on multicolored cotton. The limited-edition shirts are an offshoot of Lagerfeld's new KARL label, which launched in January, and they'll be sold starting today at Colette in Paris as well as at the KARL pop-up store and website. You can check them out in our slideshow.
BEGIN SLIDESHOW