Franca Sozzani on Fashion's Slim Mentality, Starting Vogue.it, and Not Being a Fan of Twitter
The editor-in-chief of <em>Vogue Italia</em> spoke at FIT on Friday night.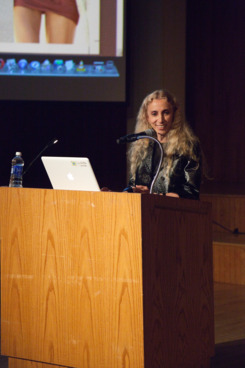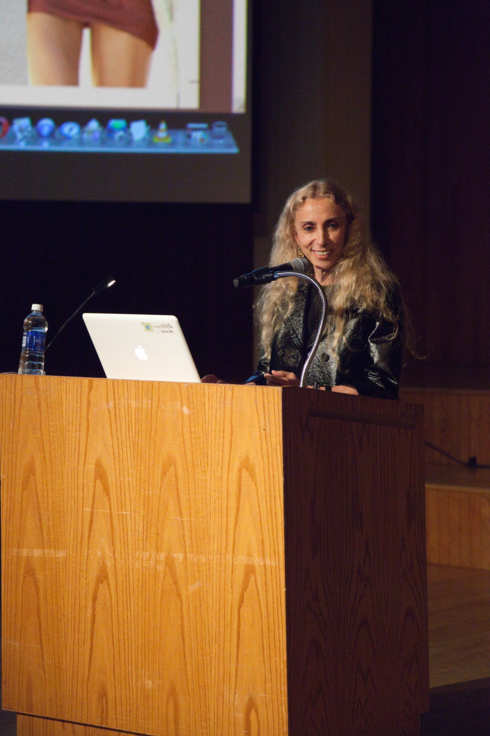 Franca Sozzani, editor-in-chief of Vogue Italia, spoke at FIT on Friday night to a full house of students who were giddy with excitement — afterward, they charged her for autographs, and the crowd was so thick that Valerie Steele, director and chief curator of the Museum at FIT, had to act as bodyguard. Sozzani's talk was obviously geared toward her adoring fans, and she discussed the importance of the magazine's website, Vogue.it, as well as the difficulties of putting together a magazine today. "To make a professional magazine today is nothing, because it doesn't mean [anything] anymore," she said. "Because the clothes are the same, the photographers are the same, the layout is even the same. So what gives the difference from one magazine to another magazine? It's the concept, it's something that you put inside." She also touched on her role as Goodwill Ambassador for Fashion 4 Development for the United Nations, which she took on in 2011, and her petition against pro-anorexia and pro-bulimia websites. Read on for excerpts from her lecture.
On her petition against "pro-ana" and "pro-mia" websites: "When I did a petition to have people sign … [to] try to close these sites that are pro-ana or pro-mia … [People probably said] 'You, that you are doing a magazine with the most skinny girl, you want to tell us [what to do].' Yes, me! Because I made a big mistake in doing that. So, maybe that's the only way for a person who made a mistake to say, 'Okay I made a mistake sometimes.' Not all the time! Sometimes ... [And now] all the Vogues for the June issue have decided we can't use girls who are not 16 years old and who are underweight. Not how many kilos they are but that the girl's proportions are healthy. Doesn't matter if you are skinny or not but in proportion … When you go to the [fashion] shows, when you go to meet people anywhere, it's always, 'Oh, you look so great, you are so skinny — what did you do?!' And so I think it's the mentality. I don't think this mentality is only because of magazine. But I think … the kind of view that is today is to be slim."

On using controversial images: "You can write for pages and people ... do not understand or they get bored of reading, but if you have a fat girl or a very skinny girl people understand if you are talking about one kind of girl or another kind of girl. So, it's very important. That's why Italian Vogue uses these kind of images. And that's why I receive questions [like] why is the magazine more provocative or more avant-garde or more unexpected in the images? Because we are a language that is not spoken anywhere, only in Italy. So if I don't communicate through the images how can I?"

On starting her blog: "When I decided to do the website, I thought okay, I will do a blog. Because ... as an editor of Vogue, people think I'm very snobbish, very cold, very unreachable or very — not the kind of person with whom you'd like to go out with. So, I thought, Now I want to show that I want to talk with people. I want to let them know that I can be ironic, I can be serious, I can be provocative, I can have a communication with them. And I decided to write a blog every day — and this was probably the biggest mistake of my life. Every day I have to write the blog. And sometimes I don't even know what to write because everyday to come up with an idea is not that easy. But what makes me very involved in the website is the relation that I have with the readers. You write, they respond — it's so quickly, and at the same time you have the possibility to open a different kind of channel to see what people like."

On Twitter: "I'm not a fan of the Twitter because it's another work. You have to be every two seconds: 'I'm here, I'm going there, I just got there.' And I understand people that love it, especially in America, but ... it's all the time, you never feel free. But I try to talk about what we are deciding in the magazine or in the website, what's interesting to see. [I know] people want to know about my personal life, but that's less interesting for me."

On launching Vogue.it: "When we started the website people said, 'Oh, after a few years, the website will kill the magazine.' It was not true. We sell more copies since we started the website. It's basically something that we didn't think about before, but the website made human the magazine. The magazine is a good magazine — it's not for me to say it's the best magazine — but it's a little bit hard because we don't talk about children, we don't talk about if your husband [is] going to cheat on you, how to get back your boyfriend, we don't talk about all those kinds of things. So it's not an appealing kind of magazine ... Sometimes the [commenters] say something not very nice, and then I answer something not very nice too. We get into a discussion, and they are really, really [responsive]. When I get upset, they get upset, when I am happy, they are happy, so it becomes like a [relationship]. And this is the only way to explain why the magazine is selling more.

On her commitment to readers: "For the advertiser [if you feature] what they show on the runway, they're much more happy than any other thing. But this is not the way to make a magazine, this is not the way to be fair with the readers. The readers require something more today, otherwise they will go. That's why today they buy more gossip magazines than fashion magazines, because at least you get fashion and you also get fun ... But the magazine has something that is different than the website that for me, nothing else could have, and that is a dream … We make an issue for people to argue about, and this is good because it's not only Put this dress with this shoe, but it's which kind of message to you want to show."
On finding inspiration: "If you do only the magazine, I can honestly say that after a while, it's boring. Because after a while, day by day, you are going to the [model], to choose a pair of shoes, and the best dress, and go to the shows. It's not for me the real life of the magazine ... I traveled through Africa in the last three months, and I went to Ghana, Nigeria, Uganda, Kenya, Botswana, Rwanda, and it's very interesting to see another world. A few months ago, I was in China for two weeks. So, it's very interesting to see that today, it's not only what fashion people want ... Magazines are a result of what you see around you."