Gap Billboard in L.A. Shows Same-Sex Couple Wearing the Same T-Shirt
Cross Gap off of One Million Moms' shopping list.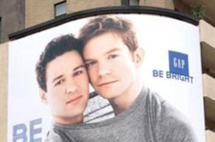 Where oh where will One Million Moms buy their 100-percent-cotton crew necks now? The ad is part of the store's "Be Bright" campaign, said to be doing so well at the Grove's Gap Utopia.