Grace Coddington Talks About Her Hair! and Vidal Sassoon
Sassoon practiced his famous five-point cut on her.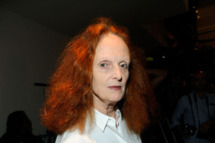 Vogue editor Grace Coddington tells the Times about her days as a hair model for the late Vidal Sassoon, which culminated with her debuting his famous five-point haircut. "He figured it out on me," she said, remembering endless trips with Sassoon to hair shows around England. "He was key to that whole look in the early sixties, that youthquake thing in London. The cut gave you a certain freedom. You weren't chained to the salon, and you certainly didn't have to go and have it set with big rollers under a hair dryer for a couple of hours. He did it with a hand-held hair dryer, so it wasn't quite drip-dry, but it was remarkable," she said. "It was a cut so precisely worked out that, no matter which way you shook it, there was never a sort of long piece hanging over the wrong side."