Janice Dickinson in the Market for a New Home
Because she's reportedly being evicted.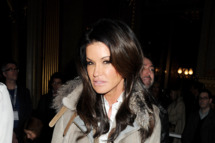 The model is reportedly being evicted from her West Los Angeles house after failing to pay the $5,900 rent for three months, TMZ writes. Dickinson's landlords gave her until May 7 to write a check or pack her baggage and go, so now they've filed a lawsuit. Earlier this year, Radar reported that Dickinson owed the IRS more than $43,000. Time to befriend a life coach.