Karlie Kloss Takes a Steamy Shower in McQueen With Tennis Balls, Olympic Athletes
And more from <em>Vogue</em>'s new Olympics-themed editorial.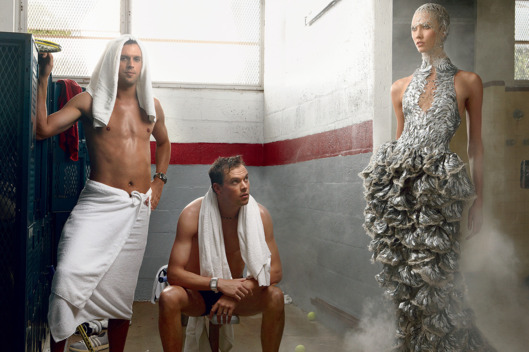 While all the lady Olympians got to show off their tats, run faster than a locomotive, and wear clingy spandex (and, in one case, wings) for the latest issue of Vogue, the male athletes apparently needed more spicing up for their editorial. Conveniently, Karlie Kloss and a bunch of fabulous designer gowns were available, so ... problem solved! Vogue didn't even bother to fit the boys with suits (who needs custom shirts when you've got abs like that?), so the menfolk wore their normal sports gear while Karlie was inserted — quite awkwardly, in some cases — into their practice sessions. We examine the full spread in our slideshow.
BEGIN SLIDESHOW