L'Uomo Vogue Willing to Take a Chance on a Little-Known Talent Named Kim Kardashian [Updated]
Photographed by Franca Sozzani's son.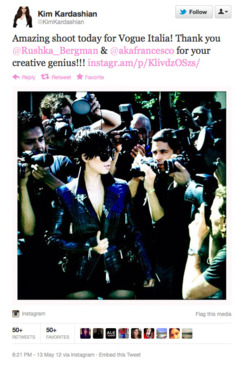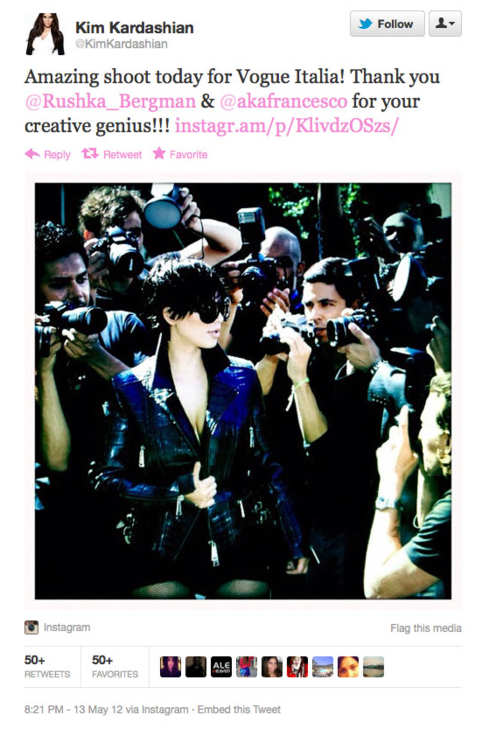 Though Kim Kardashian wasn't able to hobnob with Anna Wintour at last week's Met Gala, it appears that the first three letters of Kimye might be in some major edition of Vogue sooner than anticipated (in keeping with rumors that she simply missed the event due to "an all-day photoshoot for a European fashion magazine"). Yesterday, Kim tweeted to her 14.6 million followers: "Amazing shoot today for Vogue Italia! Thank you @Rushka_Bergman & @akafrancesco for your creative genius!!!" Bergman is the glossy's contributing fashion editor, and Francesco would be Francesco Carrozzini — editor-in-chief Franca Sozzani's son, who's also a photographer. In the accompanying Instagram photo, Kim wears a cropped wig and sunglasses — and looks a lot like her mom, Kris — and is surrounded by photographers, so perhaps this editorial is a blend of Sozzani's famous paparazzi- and plastic surgery-themed spreads. But let's just go with a "Haute Hot Mess" joke. That's still a good one.
Update: Kim's editorial won't be in Vogue Italia (although she thanked them for a great time!) but in its menswear counterpart, instead. From Franca Sozzani's Twitter: "@KimKardashian will be the star of photo shoot in the July/August number of L'#UomoVogue, look..."