Linda Evangelista's Child-Support Case Is Over
She either got "close" or "not close at all" to $46,000 a month.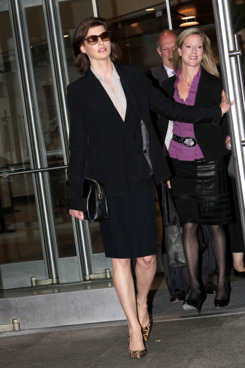 Linda Evangelista stopped by Manhattan Family Court yesterday to wrap up her $46,000-a-month child-support case, after coming to an agreement with François-Henri Pinault over the phone earlier this week. Pinault decided to take the day off and let Linda alone be photographed in one final impeccably put-together outfit before and after meeting the judge to sign the paperwork. And now to the Post for the details — or not:
Both sides have insisted they are happy with the undisclosed and now sealed settlement, and have lobbied, through anonymous sources, to describe it as a victory — and as "close" or "not close at all" to what Evangelista had originally demanded, depending on who's talking.
Either way, the settlement was safely presumed to be snuggly [sic] in the five figures per month.
Snuggly or snugly? Like, bathrobe-made-from-$1,000-bills snuggly? We're sure they each already have one of those, anyway.