A Judge Will Soon Decide Whether Linda Evangelista's Son Wakes Up for Less Than $1,500 a Day
The supermodel and François-Henri Pinault will appear in Manhattan Family Court this Thursday.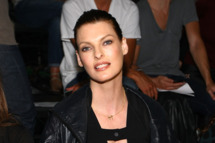 After asking last August for $46,000 a month in child support from François-Henri Pinault for their 5-year-old son, Augustin, the supermodel and the PPR CEO will have at it in Manhattan Family Court starting this Thursday. "Famed Manhattan divorce lawyer" Raoul Felder told the Daily News that Evangelista's "in for a big surprise. I wouldn't be counting the money yet." Honey, she's been counting her money since she made her "$10,000 a day" remark back in 1990.