Mad Men Fashion Recap: Joan Takes the Plunge
And while Peggy's ambitions reach new levels, her neckwear takes a turn.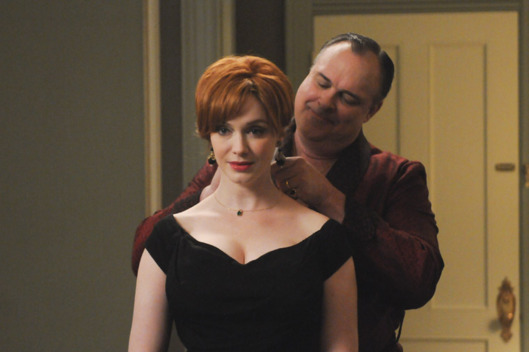 It was a highly eventful night on Mad Men on Sunday, with both Peggy and Joan making major career steps. Peggy took the more conventional route, accepting a job offer from a competing firm and tearfully announcing her resignation to Don, while Joan gained partner status at Sterling Cooper Draper Pryce by quite literally prostituting herself (at Pete's slimy behest, of course). The best part about this plot twist, of course, was that we got to see lots of Joan in a plethora of different form-fitting dresses. Interestingly, she stuck to an almost entirely purple palette throughout the episode — save a few teal numbers and a funereal black dress that she wore to her yucky hotel room "date" with Jaguar honcho Herb Rennet. Meanwhile, Peggy wore a sassy checkered neckerchief to her interview and resigned in somber maroon wool. Enjoy the full fashion recap in the slideshow ahead.
BEGIN SLIDESHOW