Matthew Williamson Is Happy It's Friday
Designers: They're just like us!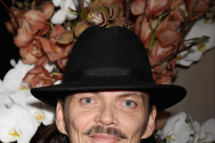 The designer told The Wall Street Journal: "I look forward to Friday night as the first moment … to kind of slow down. What I've learned is that the simplest things are those things that give me the greatest pleasure at weekends — so very undramatic and noneventful, to be honest." He calls the weekend "the antithesis of my day-to-day job." Happy Friday, all!