Michael Kors Doesn't Mind Mark Zuckerberg's Hoodies, Either
He likens them to his own preference for black crew necks.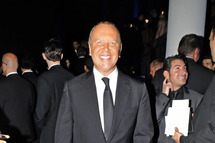 Kors agrees that it's silly to fuss over Zuckerberg's penchant for hoodies: "Don't pay attention to fashion naysayers, Mr. Zuckerberg! I wore black crewnecks, black jackets and jeans before my IPO and I continue to do so after. It's your talent, vision and performance that people are interested in."