Michelle Obama Debuted Her Reelection Style
Get ready for more campaign-trail style.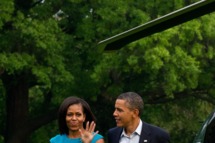 Michelle Obama wore a bright-blue dress with matching flats to kick off President Obama's official reelection campaign on Saturday. The couple attended two rallies in Columbus, Ohio, and Richmond, Virginia. See the first of many campaign-trail looks in our updated Michelle Obama Look Book.