Michelle Obama Hosted First Ladies From Around the World
She gave a tour of the White House before escorting the group to Chicago.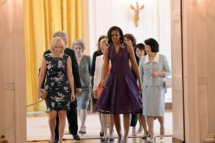 While President Obama hosted the G8 Summit at Camp David on Saturday, Michelle gathered up the G8 leader's spouses, including Hitomi Noda of Japan, new First Lady of France Valérie Trierweiler, Elsa Monti of Italy, and more for a tour of the White House. She wore a pretty purple dress and black pumps for the occasion. That night, the group flew into Chicago for the NATO summit, and Michelle was pictured exiting Air Force One in an embroidered Rachel Roy skirt. On Sunday, Michelle wore a beige dress and jacket by Zac Posen to host the spouses at the Gary Comer Youth Center. See all three outfits in our updated Michelle Obama Look Book.