Michelle Obama Wore Big Belts and Chunky Beads
Three TV appearances all in one day.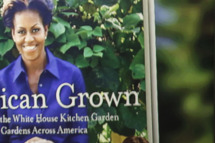 To promote American Grown, her new book on healthy eating, Michelle Obama appeared on both Good Morning America and The View yesterday. She wore a sky blue sleeveless blouse and a floral-embroidered skirt paired with a wide black belt for the former and a white sleeveless blouse, a lilac skirt, and a wide white belt with gold buckles for the latter. Last night, she also spoke with Jon Stewart on The Daily Show, wearing a navy sheath dress and strands of multicolored beads. See these latest outfits in our Michelle Obama Look Book.