Brit Newspaper Mad That Pippa Middleton Is Planning Parties Like It's Her Job
Oh, wait — it is.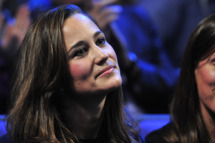 Pippa Middleton updated her blog earlier this month with a number of helpful suggestions for patriotic Brits having parties to coincide with the Queen's Diamond Jubilee or this summer's Olympics: make sandwiches, paint kids' faces, and stock up on plastic Union Jack tablecloths. This is terribly gauche, says the Daily Mail; she's shamelessly "cashing in" on sister Kate's royal status ... but planning parties is Pippa's job, literally. What's an upper-middle-class royal in-law to do — other than ignore the tabloids?