Pregnant Kristin Cavallari Has (Mostly) Shunned Her High-Heel-Wearing Ways
She's just fine with ballet flats.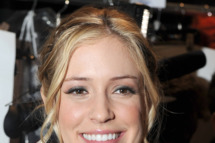 Once a tottering celebrity mom-to-be, the TV personality, who's expecting a baby boy in August, is now wearing more and more ballet flats. "I'll wear heels to dinner," she admitted to People. "I've retired my highest heels for a bit, though!" What would Jessica Simpson say?