Slideshow: This Week in Style Blogs
This week, it's all about the fine print.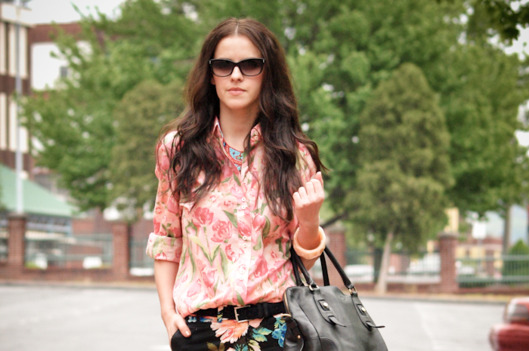 Wearing bright prints and patterns isn't for the sartorially timid, but when done right, it looks playfully fashion-forward. To nudge you out of your monochromatic wardrobe, we've rounded up some inspiring outfits from the web this week that are boldly patterned and brightly colored. There was a strong showing of full-body prints, like this woman wearing a giraffe-print jumpsuit in Paris, shot by Gastro Chic, and an all-over plaid look, shot by Stockholm Streetstyle. Meanwhile, Swagger New York spotted a combination of animal print on top and floral design on the bottom. (Blair Eadie, shot in San Francisco for Atlantic-Pacific, managed a similar look, so maybe it's not as weird as it sounds). Plus, see some sweet florals on Veronica for Bittersweet Colours (shown) and Delmy Riviera for Fashion Bananas, all in our weekly slideshow.
BEGIN SLIDESHOW