Spotted in the East Village: A Maybelline Shoot With Pandas, Hula-Hoops, and Charlotte Kemp Muhl
At the corner of St. Marks Place and Avenue A.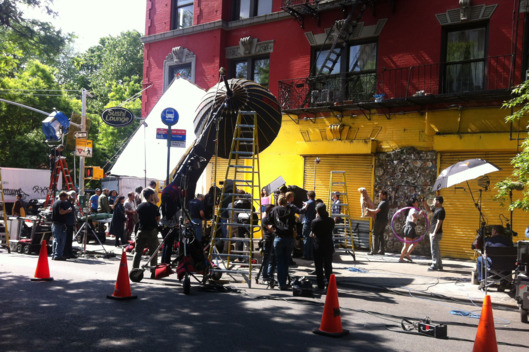 On his way into our office this morning, a New York editor noticed a rumpus in his East Village neighborhood. Upon further investigation, he discovered the source of the commotion: A Maybelline ad shoot on the corner of Avenue A and St. Marks Place, right next to Sushi Lounge (home of the mystifying "sushi 50% off ALL DAY!" deal). A strip of sidewalk normally inhabited by homeless people of questionable sobriety had been cleared away to make room for Maybelline face Charlotte Kemp Muhl (yes, girlfriend of Sean Lennon) to pose with a variety of odd props, including an assortment of stuffed animals and a Hula-Hoop. A stagehand clutching a fake leopard stood to the side. "It was all very gritty," reported the editor, who snapped some photos of the scene with his phone (shown). This isn't the only Maybelline action he's seen in the area: Another face of the brand, Julia Stegner, has been spotted walking her dog in the park several times.