Tomoko Ogura is Now Barneys's Senior Fashion Director
We're not saying she's Amanda Brooks's replacement.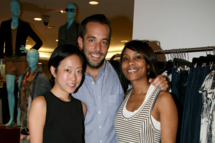 Ogura, who was previously fashion director of women's Co-op, will now report to Daniella Vitale, chief merchant and executive vice-president. The recently departed Amanda Brooks also reported to Vitale, and Brooks's title was "vice-president and fashion director," so you can come to your own conclusions — no one's using the word replacement here! Brooks, meanwhile, is having a blast blogging about surf shops and riding boots from England.