Valérie Trierweiler Wore $1,095 Yves Saint Laurent Pumps to the G8 Summit, and Now We Can't Believe a Word She Says
What to do, what to do.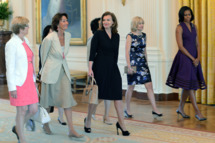 To be fair, France's new "first lady" previously told The Times of London, "I have never worn dresses by grands couturiers," and made no comments about her footwear. But we don't know if we can forgive her for not specifying, from the start, what type of shoes she prefers. And we certainly don't know if Lagerfeld or Lacroix can.