Anne V. Cast in a Movie Alongside Amy Adams, Jennifer Hudson, and Terrence Howard
She's also on the July cover of <em>Vogue</em> Mexico.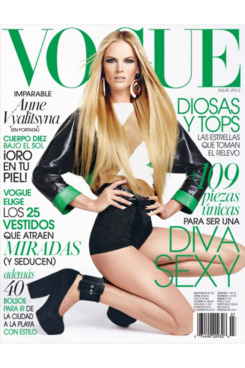 Anne Vyalitsyna's crossover into acting is coming along nicely: She's been cast in a forthcoming "comedy-drama," titled Lullaby, alongside Amy Adams, Jennifer Hudson, Terrence Howard, and Garrett Hedlund, according to Just Jared. Currently in production, the movie chronicles Hedlund's character as he finds out from his estranged family that his ill father (played by Richard Jenkins) will be taken off life support in less than 48 hours; Anne V. plays his cousin. This role follows her debut performance in A Good Day to Die Hard, the Russia-set fifth film in the Die Hard franchise, which comes out in February 2013. Meanwhile, she's still modeling away — here she is on the new cover of Vogue Mexico.