Benetton's Unhate Campaign Unhated by Cannes Ad Festival
It won the Press Grand Prix.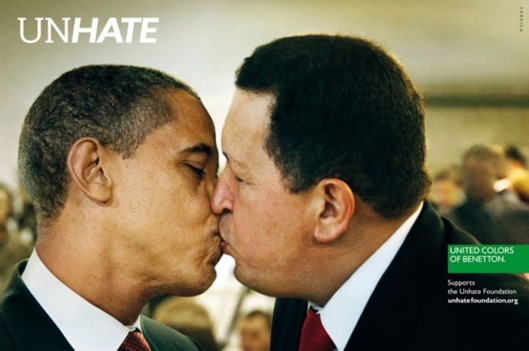 The brand's series featuring world leaders locking lips won the Press Grand Prix at the weeklong advertising event. According to Ad Age, three images in particular were honored: Barack Obama kissing Hugo Chávez, Benjamin Netanyahu puckering up for Mahmoud Abbas, and Angela Merkel hot for Nicolas Sarkozy. British juror Steve Jones said, "The reason we chose this is because it stood out on the wall ... It's not like traditional advertising. It's not making a point about the clothes, its brand history. It doesn't obey the rules." UAE juror Komal Bedi Sohal added, "You can like it, you can dislike it, you can't ignore it." And you can pursue legal action over it ... but let's focus on the love!