Anna Dello Russo Should Always Keep That Watermelon Strapped to Her Head
She "was almost fashion roadkill" in Paris yesterday.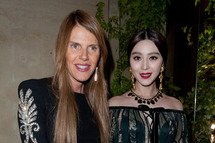 At yesterday's Salvatore Ferragamo resort show in Paris, the fashion-director-at-large of Japanese Vogue "was almost fashion roadkill" after paparazzi "ran past [her] to snap photos of Chinese actress Fan Bingbing," the Post reports. Anna wasn't hurt, but one of her fruity headpieces could have doubled as a helmet. Safety first.