Drew Barrymore's Wedding Dress Was Quite Ruffly
With lots of pleats.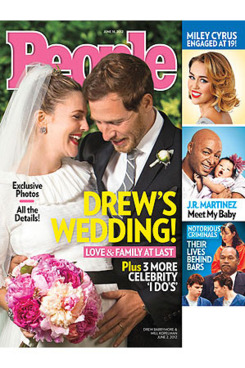 Just as celebrities often do, Drew Barrymore kept her wedding photos strictly under wraps so that she could sell them to a magazine. That magazine happened to be People, and here she is on their new cover wearing her custom-made Chanel bridal gown. (For some reason, there are no full-length pictures in the feature.) She's quite covered up, with three-quarter sleeves, a high neckline, lots of ruffles, and pleats everywhere. People reports that she added a black Chanel tweed jacket when temperatures dropped later in the evening, which surely must have been Karl's idea. Anyway, thoughts? We're a bit concerned that all that fabric might have looked frumpy.