Here's Emma Stone in Nina Ricci on Vogue's July Cover
She's blonde and wearing lots of black eyeliner.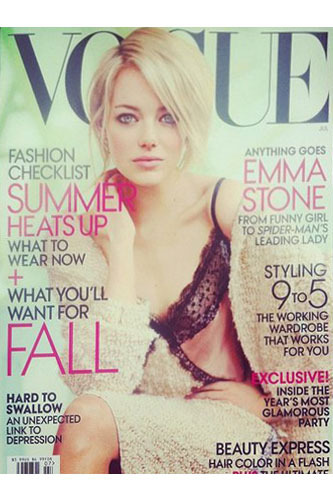 Vogue's July 2012 cover has leaked early, and it shows first-timer Emma Stone in this runway outfit from Nina Ricci's fall 2012 collection. (It's always a weird combination of triumph and embarrassment when we can identify these things.) Anyway, she's blonde, pale, and wearing lots of black eyeliner. The corresponding interview will surely cover all of her Spider-Man exploits and hopefully touch upon her penchant for hip embellishments. Also in the issue, according to the cover headlines: "Hard to Swallow: An Unexpected Link to Depression," which will hopefully investigate the connections between one's esophagus and mental health (a sorely under-explored topic, if there ever was one!).