Don't Worry, Those Aren't Ink Stains on Michelle Obama's Dress
It's supposed to look like that.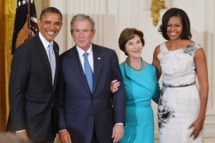 Michelle Obama attended the unveiling of new portraits of former President George W. Bush and his wife, Laura, at the White House yesterday. For the occasion, she chose a sleeveless Prabal Gurung dress (previously worn back in 2010) with a deliberately smudged, inkblot-style print and accessorized with a silver belt and matching heels. See her full outfit in our Michelle Obama Look Book.