Michelle Obama Wore Fresh Colors to Talk About Food
The First Lady showed off three outfits yesterday.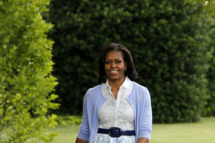 Michelle Obama continued her healthy-eating tour yesterday, first stopping by a Disney press conference at the Newseum in Washington, D.C., in her Preen colored-block dress and a light-green blazer. Next up: an interview with the Associated Press about her new book, American Grown, where she wore a floral dress with a belt and cardigan. Later, The Late Show With David Letterman aired a prerecorded segment of the First Lady in a studded chartreuse dress. See all three looks in our updated Michelle Obama Look Book.