A Peplum-Dress Takeover at the MTV Movie Awards Red Carpet Last Night
Where young people try to look edgy and older people try to look young.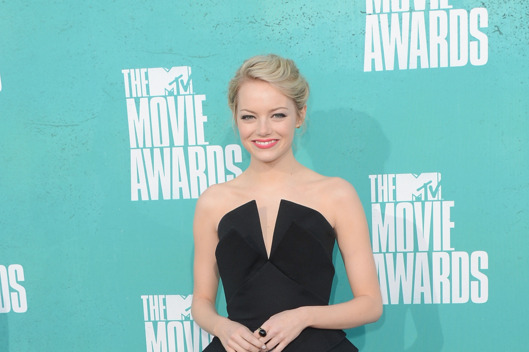 The MTV Movie Awards happened last night, and even though the network is now arguably best known for tacky reality shows like Teen Mom and Jersey Shore, a decent amount of A-listy stars — including Emma Stone, Jennifer Aniston, Charlize Theron, and Emma Roberts — showed up to bank some youth cred. Since this is not a serious awards show, the red carpet becomes a place where celebrities can show off their "fun," adventurous sides, which means lots of minidresses, preferably with a peplum (five — ! — ladies wore the trend, and Russell Brand displayed his own tiki-inspired straw version), and other assorted envelope-pushing outfits (jumpsuits, sleeveless jackets, etc.). See all these looks and more in our slideshow.
BEGIN SLIDESHOW