Patricia Field, Sarah Braverman to Appear on Project Runway
Lauren Graham's mother was a fashion buyer, you see.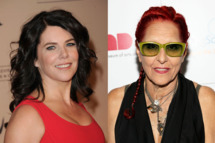 The stylist plans to reprise her judging role for the series's tenth season and "will get some help with the critiquing from Parenthood actress Lauren Graham," WWD writes. Apparently, Graham's mom was a fashion buyer, which qualifies her daughter to dole out design advice. While Pat lets the contestants have it, Sarah Lauren will probably say something painstakingly honest with tears welling up her eyes, go in for a hug, and tell them she'll make it all work.