How Much Would You Pay to Be 22nd in Line at the YSL Sample Sale?
More or less than the merchandise inside?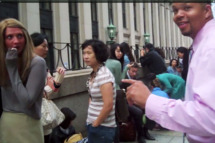 One gentleman walked up and down the queue, hawking his spot for $400, before lowering the price to $300. According to Racked, none of the waiting shoppers were interested; however, good for him for keeping with the spirit of the day! It is about markdowns, after all.