What to Expect From Tomorrow's Rag & Bone Sample Sale
Tons of blazers, jeans, accessories, and dresses in lots of colors and sizes.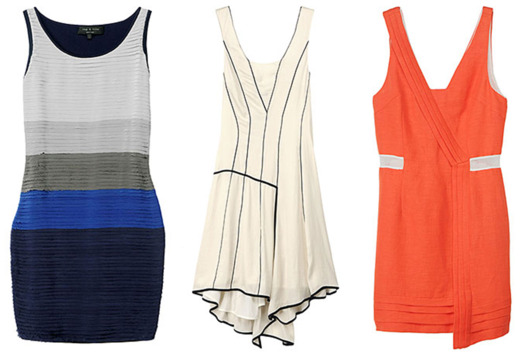 Tomorrow marks the start of rag & bone's semiannual sample sale at Chelsea Market, but earlier today, we got to poke around the racks. The space, divided between menswear and womenswear, is full of items from the label's spring/summer collection and includes pieces that are still for sale online. Perhaps the best part of the selection is the blazers: the Bromley, Bailey, and 42nd Street designs are all there in a selection of colors and sizes. There are also a bunch of pretty summer dresses, an array of knits, and some specialty items, like runway pieces and leather jackets, that come in very limited numbers. If you're brave and patient enough to squeeze into a tiny space with naked strangers, there's a small changing room with full-length mirrors, where you'll be butt-to-butt with your neighbor. There seems to be a good range of sizes (there are even signs directing shoppers to ask for a size if it's not on the rack). If you can't be the first in line tomorrow, here are a few words of comfort: They'll be restocking throughout the week. Click ahead to some of the best items from the sample sale, and see below for a full list of prices.
Rag & bone sample sale: 6/14–6/17; Th–F (10:30–8), S (12–7), Su (12–5).
Womenswear:
Accessories: $65
Bags: $125
Swimwear: $125
Coats/Outerwear: $295
Blazers/jackets: $250
Lux/leather: $495
Luxury bottoms: $195
Jeans: $95
Jean jackets: $115
Jean shorts: $75
Pants: $125
Shorts/skirts: $125
Maxi skirts $175
Dresses: $195
Shirts/sweatshirts: $115
T-shirts: $40
T-shirt dresses: $85
Vests: $175
Shoes: $195
Lux shoes: $350
Menswear
Accessories: $65
Ties $35
Bags: $125
Coats/outerwear: $295
Blazers/jackets: $250
Lux blazers/jackets: $595
Jeans: $95
Jean shorts: $75
Pants: $125
Shorts: $98
Shirts: $98
T-shirts: $40
Sweaters: $125
Sweatshirts: $85
Vests: $125
Shoes: $195
Sneakers: $125
BEGIN SLIDESHOW