Remember Elle Accessories?
It'll be back on newsstands this fall.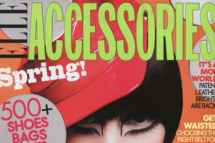 The American Elle spin-off, which published from 2005 to 2008, will return to newsstands September 18 — either packaged with the October 2012 issue, to be purchased stand-alone for $4.95, or for download on tablets — and will come out twice a year. Elle also plans to expand its website to include a shoppable accessories database.