Sarah Jessica Parker Is Getting Her Furniture, Tchotchkes Back This Very Moment
They're currently packed up in cardboard boxes on the corner of West 10th and West 4th Streets.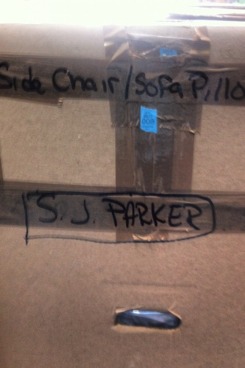 Regardless of Anna Wintour's involvement, Sarah Jessica Parker had to move a crapload of furniture, housewares, and "tchotchkes" out of her West Village brownstone in preparation for President Obama's fund-raising dinner last night. We watched her belongings get whisked away on Tuesday, and we have evidence that they're being returned this very moment. Our wonderful video editor, Sarah Frank, just happened to be walking across the intersection of West 4th and West 10th Streets when she saw two large moving trucks unloading things onto the sidewalk. She took this picture of a large, thoroughly taped-up box that, according to its label, contained a side chair and sofa pillows. With any luck, the Parker-Broderick household will be back to normal, pillows fluffed and chairs dusted, by dinnertime.