Vogue Italia Did Not Enjoy Madonna's Concert in Rome
"Everything is meticulously calculated and bears little resemblance to what we would normally call a 'concert.'"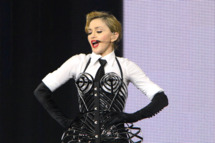 "Huge, spectacular, often slightly tacky, obvously [sic] expensive, it feels like a very long Glee fantasy sequence crossed with a particularly lavish Eurovision Song Contest performance, with better songs and a lot less humour," writes Giulia Blasi. She's probably just upset that she missed Madge's nipple and only got mooned.