Anonymous Deodorant Packages Are a Truly Brilliant Idea
The world smells better, and no one gets hurt!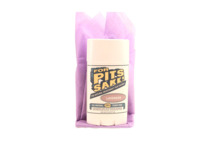 Does someone you love have a body odor problem that you want to confront him about (ahem) in the most caring way possible? Well, some smart people over at G.B. Proudfoot's — yes, that's really the company's name — came up with "Deodorgrams" for this specific purpose. They even provide a selection of pre-written messages that you can send with the anonymous deodorant delivery, including this one (our favorite): "You've always been such a cute little stinker, now you can just be cute and little!" See, that's friendship.