Photoshopping Is All Fun and Games Until Doutzen Kroes Loses a Leg
As seen in <em>Vogue</em> China.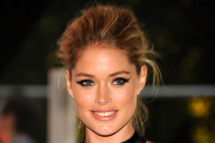 Of her recent Vogue China editorial, in which she appears to be missing part of the lower half of her body, the model told the Post: "I just saw this. Maybe it's two legs together? Maybe it's the pose? ... I was like, 'Oh my God.' I think Photoshopping is OK until something like that happens. You don't want to lose one of your limbs." That's always the worst.