Georgia May Jagger 'Had So Much Fun' Shooting Her Material Girl Campaign
And there's an MDNA tie-in.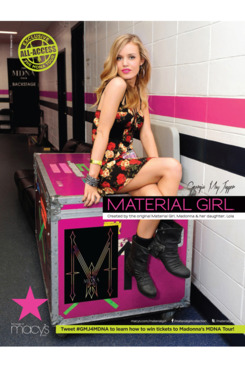 Madonna and Lola tapped Jagger as the brand's new face at the end of May, which the model called "truly amazing." Now, her campaign has dropped, and the series of photos features Jagger getting cozy with some of the equipment at Madge's MDNA rehearsal at Nassau Colliseum (why wouldn't there be a tie-in?), sitting onstage, and hanging onto the wardrobe racks. In a press release, Jagger said, "I had so much fun shooting this campaign. I spent a lot of my childhood backstage hanging out around amps. That was where we chilled when we were younger." Not dressed like that, you didn't, young lady. Or maybe you did.