Harper Beckham's Clothing Choices Are Already Worthy of Media Alerts
To be fair, she is quite stylish.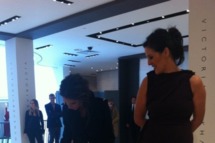 This morning, we received an e-mail from children's clothing brand Marie-Chantal Ltd. that Harper Beckham wore their navy Frida dress, from the label's summer 2012 collection, in Dublin recently. Just imagine the waves she'll make once she's out of diapers!