Katie Holmes Is Clearly Enjoying Her Air-Conditioning
She wore an orange leather jacket yesterday in New York.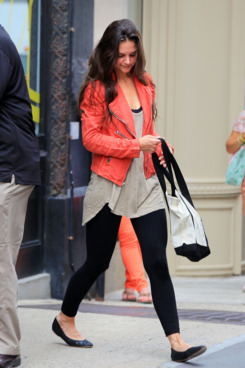 Katie Holmes ventured into the 100-degree weather in New York City yesterday in black leggings, a taupe-colored shirt, and a pinkish-orange leather jacket. She accessorized with black flats and a canvas tote bag.
That leather jacket seems like an odd choice for one of the sweatiest days of the summer, although her apartment, car, neighboring Whole Foods, and wherever else she might be going are all probably nice and cool. What do you think about the latest in her carefully executed post-split appearances?