Livia Firth Ventures Into Fashion Design
She's already got a Ph.D. and Colin Firth, so why not?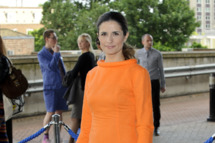 Livia Firth has a Ph.D. in alternative energy sources, has directed several films and TV programs, and gets to make out with Colin Firth every night. Now she's expanding her ecofashion e-commerce site, Eco Age, into her own sustainable clothing line. Her eponymous new label will debut with five basic pieces, including a black dress in organic wool with a vegetable-tanned leather obi belt, according to the Telegraph. In other news, she calls her closet a "cupboard," which is endearing.