The Louis Vuitton Train: Part Deux
This time, in Shanghai.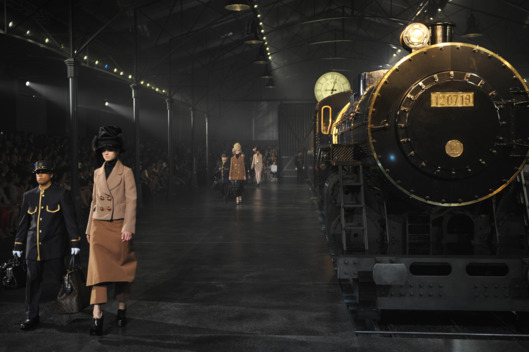 Thanks to the dramatic opening of the fall 2012 Louis Vuitton show, when a full-size locomotive stuffed full of models, enormous hats, and besuited men carrying huge pieces of luggage chuff-chuffed its way into the Louvre, the world knows that said train is actually capable of moving. It has since moved all the way to Shanghai, where it reprised its role yesterday before a crowd of Chinese celebrities including Fan Bingbing, Kiko Mizuhara, and Luodan Wang (plus some folks Louis Vuitton flew in for the occasion, like Peter Marino, Alexa Chung, Poppy Delevigne, and Clemence Poesy). The real question is, where will this train go next? Will it be laid to rest, its fifteen minutes of fame over and done with? Or perhaps it'll go on a much-deserved vacation, full of delicious cocktails and extravagant dinners (come to think of it, the poor thing's probably been on a liquid diet since March).