Marvin Traub, Former Bloomingdale's President and CEO, Died Today at Age 87
He is widely credited with transforming the department store into the institution it is now.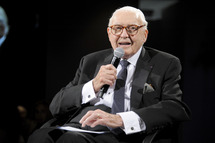 Widely credited with transforming Bloomingdale's into the institution it is now, Traub once said, "We are not only in competition with other stores, but with the Guggenheim and the Met," according to the Times. Even Jacqueline Kennedy and Queen Elizabeth II shopped there. After more than two decades at the helm, Traub left the company in 1991 to start his own consulting firm, and also co-wrote a pair of books about his experiences. He is survived by his wife, Lee, their three children, and four grandchildren.