Vogue Editor Meredith Melling Burke and Literary Agent Luke Janklow Supposedly Broke Up
Six degrees (well, fewer) of Olivier Sarkozy.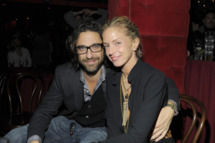 Janklow is said to be seeing Stella Schnabel (daughter of artist and filmmaker Julian), who used to go out with the Carlyle Group's managing director Olivier Sarkozy, who's now reportedly dating designer Mary-Kate Olsen. And that, as we know, is one of the greatest love stories of our time.