Of Vera Wang and Arthur Becker's Split, a Source Told the Post: 'There Is Concern That It Doesn't Look Good for a Wedding-Dress Designer to Get a Divorce'
But what did the other sources say?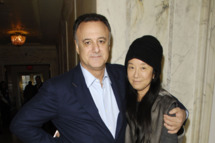 And another remarked: "They used to fight all the time in public, even at dinner. They would berate each other in front of other people, even though it made others uncomfortable." A third source said something remotely nice, so "Page Six" must have written it down incorrectly.